Education and Training
The Kappe Laboratory has extensive experience in providing hands-on individual training courses for interested parties at the Graz flow chemistry facilities and in organizing in-house short courses for pharmaceutical/agro/biotech companies. Members of the group have been involved in teaching a 2 day flow chemistry short course (classroom) and Masterclass (laboratory) with Scientific Update.
---
CCFLOW Open Days
September 25 & 26, 2019, Graz/Austria
The Center for Continuous Flow Synthesis and Processing (CCFLOW) will be opening its doors in September to showcase all of its current research projects in flow chemistry and related fields carried out in Graz. The two day event will feature oral and poster presentations from members of CCFLOW, in addition to a tour of our lab facilities and three keynote presentations by world-leading experts in continuous API manufacturing from the pharmaceutical industry.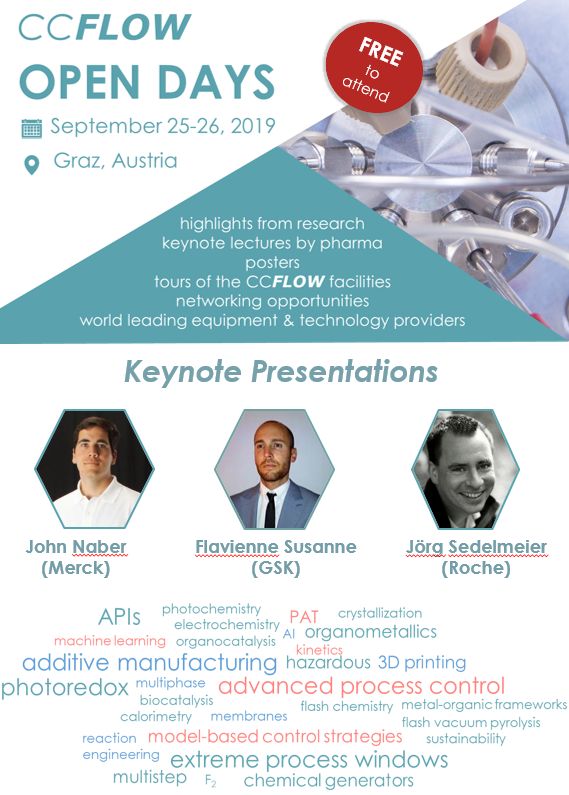 External Keynote Lectures will be presented by
John Naber (Merck): "New tools and recent applications in flow chemistry at MSD"
Jörg Sedelmeier (Roche): "Organometallic reagents in continuous flow: opportunities & challenges"
Flavien Susanne (GSK): "How process simulation can influence the process development and control strategy of a drug substance asset"
---
Agenda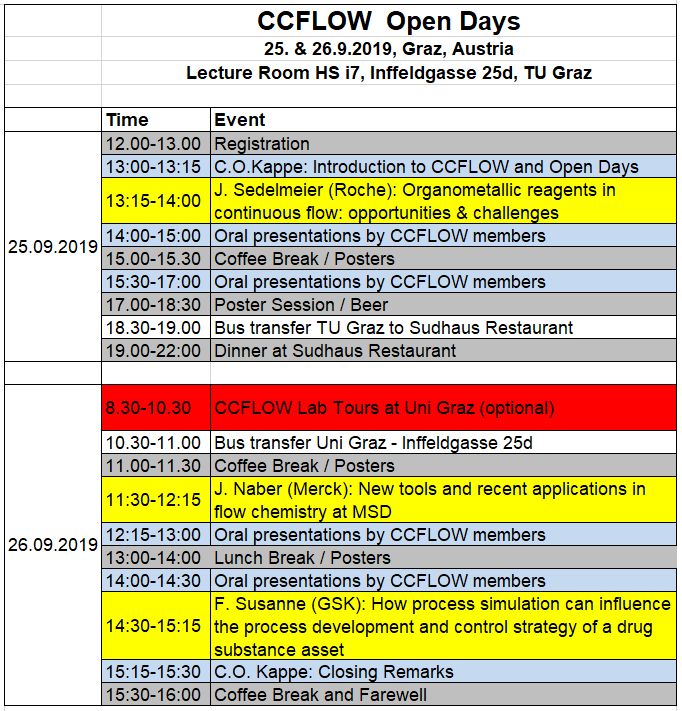 Participation at the event is free subject to availability (limited capacity). The CCFLOW Open Days are designed for professionals from the pharmaceutical and manufacturing industries. Registration is required and a mandatory 50 € fee (excl. VAT) will be charged to attend the conference dinner at the "Sudhaus" restaurant.
Location: Lecture Room HS i7, Inffeldgasse 25D, 8010 Graz.
Accommodation: Graz offers a variety of possibilities to spend the night, from a simple 2* hotel to a luxurious 4* superior with extended wellness area. The following hotels are recommended: Das Weitzer, Roomz Graz, Star Inn Hotel.
Please CLICK HERE to access the registration page
For additional information please contact: ccflow_opendays@rcpe.at