Education and Training
The Kappe Laboratory has extensive experience in providing hands-on individual training courses for interested parties at the Graz flow chemistry facilities and in organizing in-house short courses for pharmaceutical/agro/biotech companies. Members of the group have been involved in teaching a 2 day flow chemistry short course (classroom) and Masterclass (laboratory) with Scientific Update.
---
Flow Chemistry and Flow Chemistry Masterclass
June 3-5, 2020, Graz/Austria
In it's 5th year and after the successful event of last year, we will be running the Scientific Update two-day Flow Chemistry Training Course again in Graz in 2020. In addition to the classroom-style training course on June 3 & 4, the one-day Flow Chemistry Masterclass will be held on June 5 at the Center for Continuous Flow Synthesis and Processing (CCFLOW). This unique event will provide hands-on laboratory training on the various flow chemistry infrastructure available at CCFLOW (for a video, click here: lab facilities).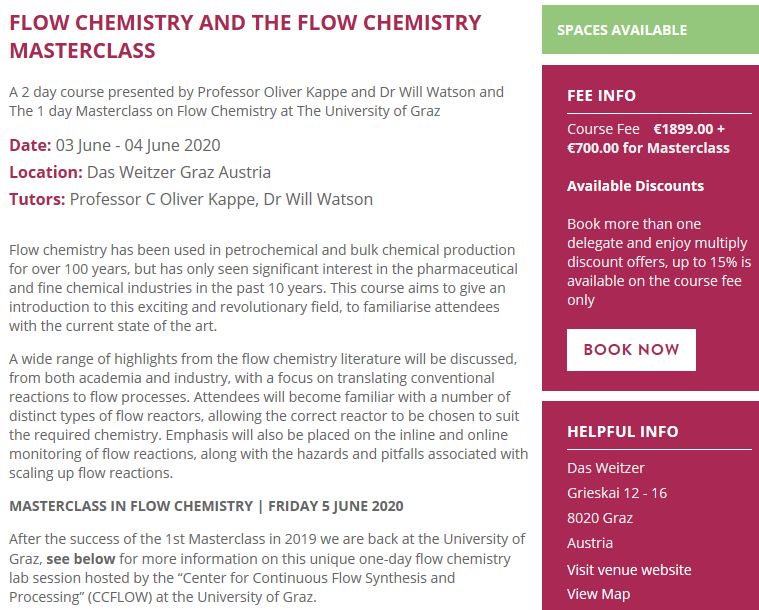 Places for the Masterclass are limited and first option will go to those delegates who are booked onto the Flow Chemistry Course. For registration details, click here.