Education and Training
The Kappe Laboratory has extensive experience in providing hands-on individual training courses for interested parties at the Graz flow chemistry facilities and in organizing in-house short courses for pharmaceutical/agro/biotech companies. Members of the group have been involved in teaching a 2 day flow chemistry short course (classroom) and Masterclass (laboratory) with Scientific Update.
---
CCFLOW Open Days
September 25 & 26, 2019, Graz/Austria
The Center for Continuous Flow Synthesis and Processing (CCFLOW) will be opening its doors in September to showcase all of its current research projects in flow chemistry and related fields carried out in Graz. The two day event will feature oral and poster presentations from members of CCFLOW, in addition to a tour of our lab facilities and three keynote presentations by world-leading experts in continuous API manufacturing from the pharmaceutical industry.
External Keynote Lectures will be presented by John Naber (Merck), Jörg Sedelmeier (Roche) and Flavien Susanne (GSK).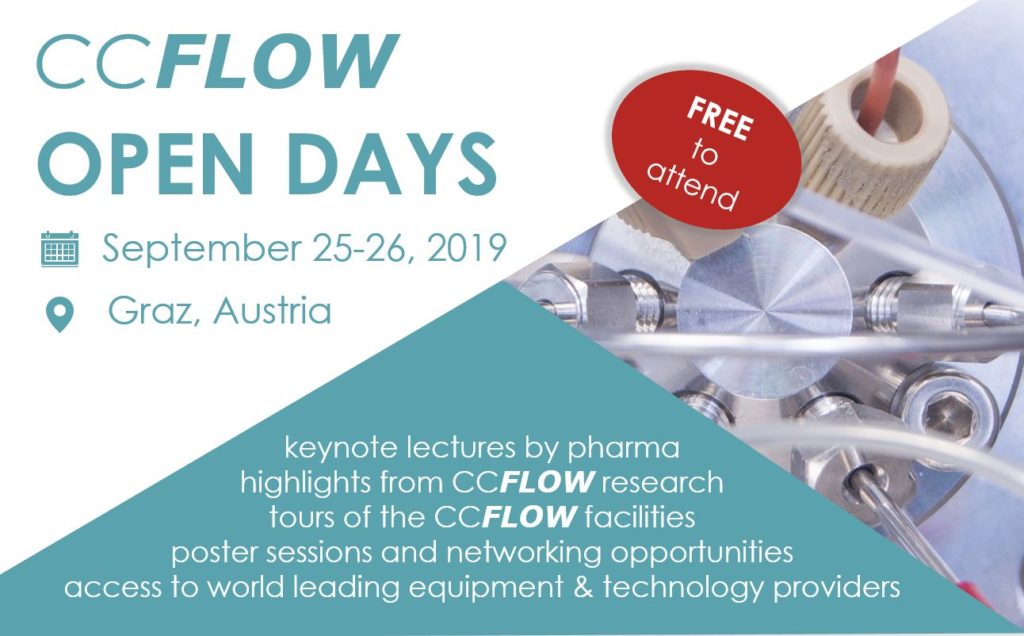 Preliminary agenda: The event will start on Wednesday, September 25 at around 12:30 and finish on Thursday, September 26 at 16:00. Participation at the event is free subject to availability (limited capacity). The CCFLOW Open Days are designed for professionals from the pharmaceutical and manufacturing industries. Registration is required and a 50€ fee will be charged to attend the conference dinner.
Location: Research Center Pharmaceutical Engineering GmbH (RCPE), Inffeldgasse 13, 8010 Graz.
A website for registration will be available in a few weeks. For more information please contact: ccflow_opendays@rcpe.at